Simatic IPC677C HMI
share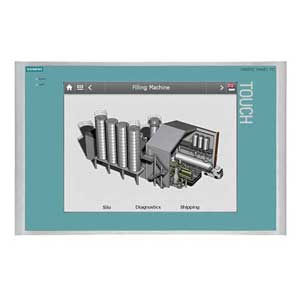 Features
Applications
Model
Compact design
High degree of investment protection
Fast integration capability
Front panel versions:
15" TFT Touch, stainless steel/INOX
The SIMATIC HMI IPC 677C INOX is designed for use directly on site on the machine. The small mounting depth of only 121/142 mm means that it can also be used where space is limited.
The PC is used both in manufacturing automation and process automation, installed in control cabinets and consoles, 19" cabinets/racks and swing arms (booms).
Thanks to the Dual Core CPUs with Intel Core technology, high-performance control and visualization are possible simultaneously.
With PCIe (x16), the new PCI express (PCIe) cards (x1, x4 and x8) are also supported.
The integral NVRAM (battery-backed) is supported by WinAC RTX, for device versions with integrated PROFIBUS or PROFINET (IRT-capable) interfaces.
A SIMATIC Panel PC is the ideal platform for PC-based Automation:
PC-based visualization on site on the machine with SIMATIC WinCC flexible
Complex solutions with SIMATIC WinCC process visualization
PC-based control with SIMATIC WinAC software PLC
Siemens offers a complete modular system of perfectly matched automation components.
The SIMATIC Panel PCs can be ordered together with WinCC flexible or WinCC as SIMATIC HMI Packages with a price advantage (see SIMATIC HMI all-in-one systems).