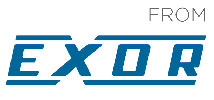 EXOR is a global manufacturer of HMI's (Human Machine Interfaces) offering monitoring and control solutions focused on delivering superb End-User Experiences. EXOR helps businesses succeed by delivering the very best HMI hardware and software, connecting numerous industrial controllers in a system to various on-site and mobile monitoring/control interfaces.
EXOR provides flexible monitoring and control choices to perform needed tasks, such as easily managing recipes and receiving reports, notifications, and information in easy to use formats like PDF's. EXOR's systems also allows users to access HMI information and operate systems from the browser of any smart-device like a tablet or smartphone. And every EXOR HMI is backed up by generous warranties and free customer support to maximizing any HMI investment.
EXOR prides itself on offering flexible and truly customizable HMI systems, delivering exceptional end-user experiences and allowing an organization to adapt to growth and changes without requiring any major additional HMI system investments to achieve new goals.