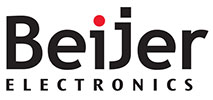 The Synergy of Beijer Electronics and QSI Corporation
QSI Corporation has been the manufacturer-of-choice for environmentally-hardened industrial for over thirty years. With the recent acquisition of QSI Corporation by Beijer Electronics we can now offer a full range of human machine interface (HMI).
Together, Beijer Electronics and QSI Corporation have over 50 years of combined experience in designing quality products. From powerful automation software, robust operator panels and high-performance industrial PCs to environmentally rugged HMIs, Beijer Electronics has the products you need for your market.
Since its start-up in 1981, Beijer Electronics has evolved into a multinational group. With locations in twenty-one countries around the world and over 600 employees, Beijer Electronics provides a wealth of industry knowledge and a network of sales, support and engineering personnel to help you. The company is listed on the NASDAQ OMX Nordic Exchange Stockholm's Small Cap list under the ticker BELE.